Elaborating a bit on the concept of Cryptocurrency and the blockchain effect before we move onto the central theme. As put in words by Daniel Gasteiger on the topic 'Blockchain Demystified' at TEDxLausanne,'A blockchain is nothing but a database, a database that is public, therefore not owned by anybody. Distributed hence not stored centrally on one computer but on many computers across the world. Constantly synchronized to keep the transactions up to date and secured overall by the art of cryptography to make it tamper proof and hacker proof. These four features make this technology exceptional.' Daniel's strong belief in the solidarity of the concept of Cryptocurrency motivated him to leave his full-fledged career of 20 years in financial services to focus on the concept of Blockchain. Looking to know more about how to formulate Cryptocurrency strategies? Read our blog on Cryptocurrencies Trading Strategy With Data Extraction Technique.
Why is Cryptocurrency trading popular?
The concept of universal money that can be traded worldwide, which is surging in value and price every day is the most lucrative aspect for traders. At the very initial stages 1 bitcoin was traded at 0.003$, it was cheaper than 1 cent! The currency quickly surged in value to be worth many hundreds of US Dollars. As of today, 1 Bitcoin is equal to 9881 US Dollars.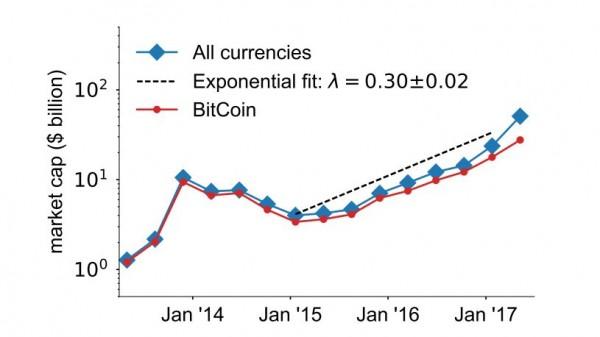 Source: https://www.technologyreview.com/s/607947/the-cryptocurrency-market-is-growing-exponentially/
Cryptocurrency is based on knowledge sharing on a distributed platform. The entire transactional history is for everyone to see. One blockchain is one thread of transaction. One unit or one block stores many transactions. The size of the block is 1MB and generally stores around 1000 to 2000 transactions. The data entered cannot be altered, nor can it be removed, enabling a system of complete transparency and trust. The entire money flow for the working model is beyond the traditional practices of controlling tax rates, credit usage, and money supply in the market.
Those who believe in Cryptocurrency claim it to be the next big thing in the history of mankind. The mere fact that Cryptocurrency is beyond the control of any government body gets it a lot of eyeballs. Imagine a universal currency beyond the control of liquidity, inflation and government subsidy. This would mean that the commercial activity of economies working on Cryptocurrency shall be privatized absolutely.
Strictly speaking, there's so much to be tested and validated in this field, yet Cryptocurrency is the most lucrative form of currency thought of till date. It has not been banned in most countries but most countries maintain a strict no regulation and no involvement stand on it. Considering the same, Cryptocurrency traders are always looking for the most reliable broking and cryptocurrency trading platform.
9 Best Cryptocurrency Exchanges
eToro is a social trading and multi-asset brokerage platform with offices in Cyprus, Israel and the United Kingdom. The platform allows users to watch trading strategies of others and copy them. The company's products OpenBook and WebTraders allow traders to learn from each other. The features are user-friendly and simple to use while the fees depend on market dynamics.
Kraken's innovative features claim to cater to the demand of fast execution, outstanding support and high security. The organisation is based in San Francisco, USA. Kraken is operational worldwide with a pre-validation for those countries where it is not eligible. The platform accepts both Cryptocurrency and fiat and transaction is completed by a wire transfer which should be completed at the bank. The platform does not accept debit, credit or cash.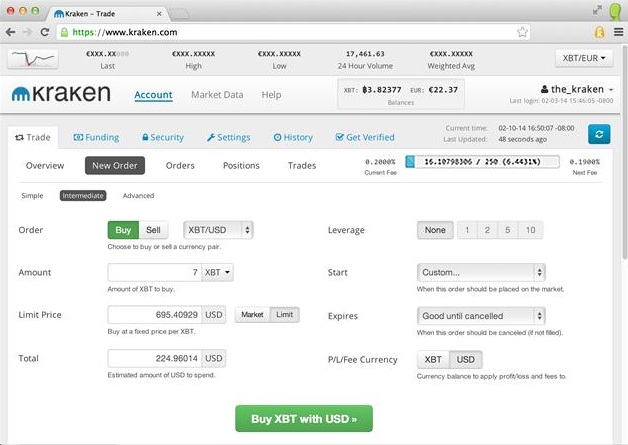 The fee goes as low as 0% and depends on how much you trade. The trade volume for the period of past 30 days is considered for calculating the charge.
Poloniex is an asset exchange based in the US. Trading on Poloniex is secure and allows traders to explore new and trendy coins which are up for speculation. It offers high volume margin trading and lending service for major crypto assets. Reportedly, the largest user base for trading on this site comes from Russia (6.06%) and US (24.84%). A differentiating factor about the site is that it does not support fiat currency.
Poloniex is popular as a cryptocurrency trading platform with users seeking to convert cryptocurrencies, margin trade and lend. Services are accessible across the globe. Fees is dependent on the maker-the one whose name is already listed and taker-the one who makes an order. Makers are so named because they maintain the liquidity in the market. Every 24 hours the platform calculates the fees based on the volume traded between market and the taker for last 30 days and the fees is updated dynamically.
Bitfinex, a popular cryptocurrency trading platform, is perfectly suited for trading most cryptocurrencies like Bitcoin, Bcash, Ethereum, Iota, NEO, Litecoin, EOS, Dash, Ripple, Bitcoin Gold, Monero, Zcash, Ethereum Classic, OmiseGO, ETP, Santiment, Qtum, Eidoo, Streamr, and Aventus.
BitFinex allows both traditional orders like limit, market, stop and Algorithmic trades like Iceberg, OCO and Post Only.
A BitFinex has three wallets for three different purposes, viz. Exchange, Margin and Funding. Fee charge is same as Kraken, trading is either zero-fee or a small fee depending on the trader's trading activity in the last 30 days. The trading fee has a distinction of a "maker" fee or a "taker" fee.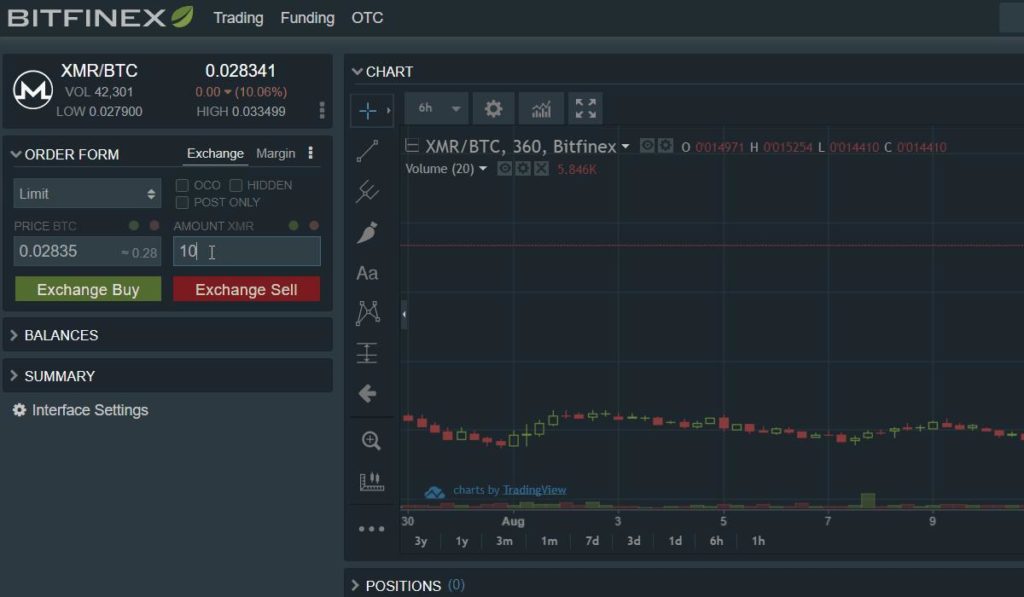 HitBTC is a global trading platform that has been operational since 2013, supporting multiple currency forms. The trading platform has markets for trading digital assets, tokens and ICOs.
HitBTC offers fees on every market trade while letting you trade a variety of cryptocurrencies and fiat currencies – including Bitcoin, Dogecoin, Litecoin, the Euro, USD, and a surprising range of lesser-known cryptocurrencies. You can check out the fees details here.
The platform is quite popular among developers who want to test their codes since the platform allows demo trading as well.
Bitrex provides comprehensive vetting of new Cryptocurrency tokens and places a strong emphasis on user security. Hence has the reputation for being a secure wallet with a good security module.This cryptocurrency trading platform trades vastly in Altcoin. Trading fees at the platform are is listed here. The minimum transaction fee of the blockchain governs the charge for deposit and withdrawal.
BitMEX is a derivatives exchange that offers leveraged contracts that are bought and sold in Bitcoin. This is a cryptocurrency trading platform that provides trading in bitcoin derivatives. The derivative traded is a perpetual swap contract, which is a derivative product similar to a traditional Futures Contract. Swap contracts trade like spots, tracking the underlying assets.
Coinbase, headquartered in San Francisco, is an online bitcoin broking exchange which caters to US, Canada, Europe, UK, Australia, Singapore. Up to 150 US dollars and pounds can be bought on Coinbase on a daily basis. Coinbase offers very high limits. Limits depend on your account level, which is determined by how much information you have verified.
Localbitcoins is the portal that exchanges trades between person to person where you interact with the seller directly. On this platform, people from different countries can exchange their local currency to bitcoins. The site is suggested for casual traders seeking more privacy. The site uses an escrow system and the transfer of bitcoin is made after funds are received in the sellers account. Registering, buying and selling is completely free on localbitcoins while local bitcoin users who create advertisements are charged as mentioned here.
A concise tabular comparison of all the popular bitcoin exchanges and their features:
Looking for more guidance on how to get started? Read our blog to know how one of the EPAT participants started Cryptocurrency trading.
Next Step
If you want to learn a simple strategy to fetch data from various Cryptocurrency platforms you can check our post on 'Cryptocurrencies Trading Strategy With Data Extraction Technique'. This strategy will help you make to fetch data with a minute resolution using python library.
Disclaimer: All data and information provided in this article are for informational purposes only. QuantInsti® makes no representations as to accuracy, completeness, currentness, suitability, or validity of any information in this article and will not be liable for any errors, omissions, or delays in this information or any losses, injuries, or damages arising from its display or use. All information is provided on an as-is basis.