Thursday, June 28, 2018 6:00 PM IST | 8:30 AM ET | 8:30 PM SGT
Session Outline
If you've been looking to build a career into the quantitative and algorithmic trading domain, there is a high probability that you would have heard about the EPAT programme. But is it something that can help you in achieving your career & learning objectives in this domain? This informative session on EPAT addresses this question while covering various practical aspects of the EPAT programme. In addition to the detailed overview of each of the EPAT module, it also covers how EPAT fills in the existing skill gaps and addresses the learning requirements of the industry & the individuals.
You'll get to know all this and much more in this brief but effective informative session on EPAT:
Why has EPAT been working for professionals from 60+ countries?
Learn about the practical aspects of EPAT.
Can EPAT help you address your pain points in quantitative & algorithmic trading domain?
How does lifelong learning & other EPAT features keep you ahead?
Speaker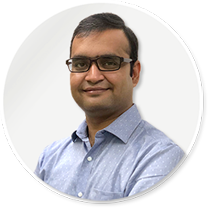 Nitesh Khandelwal (CEO - QuantInsti)
An electrical engineering graduate from IIT Kanpur with a postgraduate degree in Management from IIM Lucknow, Nitesh Khandelwal started his career in the Banking sector on the treasury side. After a brief stint in a proprietary trading firm as a lead, he co-founded iRage in Mumbai. Today, iRage is a leading player in the Algorithmic Trading space in India. Later, when Nitesh moved to Singapore, he set up a trading business to trade across the global exchanges.
In 2016, he shifted his focus to QuantInsti ® as its CEO. QuantInsti ® continues to work towards bringing knowledge and access to scientific & technology oriented trading to the masses across the globe and has already been helping its users from 130+ countries in achieving the same.