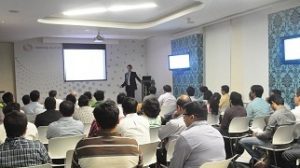 QuantInsti and Thomson Reuters South Asia had successfully conducted a one-day workshop on 'Algorithmic and High-frequency Trading' for leading international and domestic financial institutions and brokerages on the sell-side in the Indian Capital Markets.
Conducted by algorithmic trading; advisors from iRageCapital, the programme was highly successful in initiating as well as introducing the audience to advanced concepts within high-frequency trading. iRageCapital advisors provided practical insights into aspects like system architecture & latency, standardised protocols, trading strategy design methodologies for HFT, risk management for HFT, and new developments/tools in this domain.
The event generated a strong positive response from the participants which involved trading & technology professionals from international & domestic trading and brokerage firms as well as the exchanges (HSBC, Nomura, Credit Suisse, ICICI, Kotak, IDBI, Religare, Daiwa Capital, Prabhudas Leeladhar, Edelweiss, Karvy, Antique Broking, etc).