Overview
QuantInsti conducted a session on Algorithmic Trading at the Indian Institute of Management, Ahmedabad. It was an interesting session by Nitesh Khandelwal (Co-founder and CEO, QuantInsti) and Prodipta Ghosh (Vice President, QuantInsti) on behalf of QuantInsti for students at IIM Ahmedabad.
It was great to see the interest level of so many bright budding managers in the domain of Algorithmic Trading and Quantitative Trading!
About The Speakers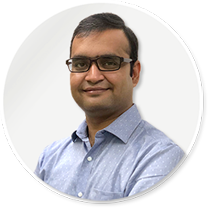 Nitesh Khandelwal (Co-founder and CEO, QuantInsti)
An electrical engineering graduate from IIT Kanpur with a postgraduate degree in Management from IIM Lucknow, Nitesh Khandelwal started his career in the Banking sector on the treasury side. After a brief stint in a proprietary trading firm as a lead, he co-founded iRage in Mumbai. Today, iRage is a leading player in the Algorithmic Trading space in India. Later, when Nitesh moved to Singapore, he set up a trading business to trade across the global exchanges.
In 2016, he shifted his focus to QuantInsti ® as its CEO. QuantInsti ® continues to work towards bringing knowledge and access to scientific & technology oriented trading to the masses across the globe and has already been helping its users from 130+ countries in achieving the same.

Prodipta Ghosh (Vice President, QuantInsti)
Prodipta is a seasoned quant and currently leads the Fin-tech products and platforms development at QuantInsti as its Vice President.
He has spent more than a decade in the banking industry – in various roles across trading and structuring desks for Deutsche Bank in Mumbai & London, and as a corporate banker with Standard Chartered Bank. Before that, Prodipta worked as a scientist in India's Defence R&D Organization (DRDO).