FINBRIDGE, The Financial Services and Technologies Exhibition, was held on 14-15th March 2015 at Bombay Exhibition Centre in Mumbai.
FINBRIDGE, the 2-day mega event was inaugurated by Mr. Ashishkumar Chauhan (MD & CEO, BSE). It brought together thousands of retail financial market participants, distributors, investors, vendors, services experts and also top mutual funds, insurance companies, leading brokers, banks or financial institutions, fund managers, decision makers responsible for business management, data management, infrastructure, trading technology, risk management, payments, compliance and operations.
Many leading market players in finance and technology industry like Reliance Securities & Mutual Fund, Sharekhan, Angel Broking, Kotak Mutual Fund, Birla Sun Insurance, Nirmal Bang, SMC Global, Atom Technologies, Financial Technologies participated in the event. All flocked together to experience the first ever integrated Financial Service Providers Exhibition in India.
QuantInsti's Presence at Finbridge 2015
QuantInsti was invited to be its Knowledge Partner. The experts from QuantInsti were invited to share experiences and knowledge at the Automated Trading' conference. QuantInsti conducted workshops on various topics under algorithmic and high frequency trading an audience consisting of retail investors, traders, brokers, sub-brokers, finance entrepreneurs and evangelists. These industry professionals were able to gather expert commentary on this emerging trading trend of "Algorithmic Trading".
In the exhibition, we had rich face-to-face interactions with visitors from finance and technology sectors. QuantInsti's booth showcased a dummy trading desk and explained the technological innovations for trading to the relevant audience. We showed a demo of a Pair Trading Strategy being executed using advanced Algorithmic Trading platforms. The experts in the booth also gave short lectures on the algorithmic trading system architecture, explaining the whole system across multiple levels i.e. Application, Server and Exchange (Image below). In this event, it was great to meet and talk with our alumni who have established themselves as reputed individuals in their respective fields of expertise!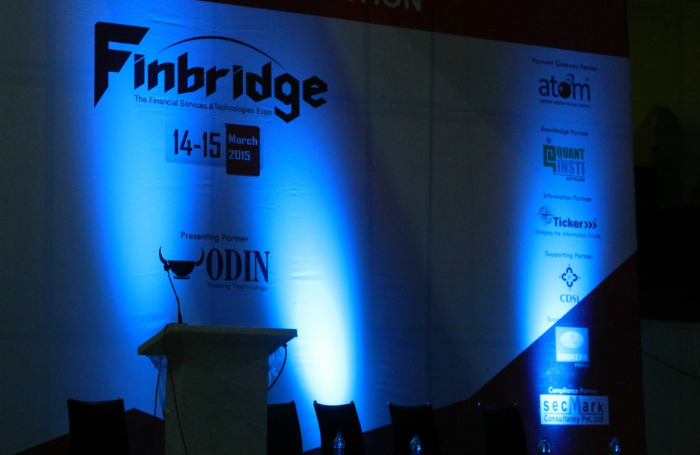 Conferences and Workshops on Cutting Edge Trading Technologies
1st conference of the event was on "Trading Technologies in Equity Market" in which panel of experts from leading companies like Financial Technologies, Dion Global Solutions, had participated and put forward their thoughts on current market technology scenario in equity trading and shed light on upcoming trends and technology in trading.
2nd conference of the event was on "Automated Trading" in which a panel of eloquent speakers from leading Algo trading companies like QuantInsti, BP Wealth, Symphony Fintech, had participated and addressed the audience and answered the questions like "How to improve execution, risk control procedures and compliance?", "How to use automated strategies to take advantage of the futures, options, FX and equities markets?" and "Future of automated trading in India".
Mr. Gaurav Raizada (first from right) in the Panel at Automated Trading Conference
Mr. Gaurav Raizada (Director & Co-Founder - QuantInsti), addressed audience about how retail traders and investor can take advantage of automated trading and increase their profits.
Event Overview
Workshops on trading technologies were conducted on both days where many retail investors, traders, brokers and sub-brokers had asked questions and discussed their issues and experiences with respective speakers from leading market players such as Birla Sunlife, Atom Technologies.
Workshops on "Algorithmic Trading" proved to be myth busters for retail investors, traders and brokers about Algo trading. QuantInsti workshops were lead by the expert faculty members, Mr. Rajib Ranjan Borah and Mr. Shaurya Chandra, who talked about latest innovations in the industry such as news based automated trading, sentiment based analysis, profitability analysis, money management in quantitative trading, among other topics. Our quantitative analysis and technology gurus Mr. Sameer Kumar and Mr. Anil Yadav demonstrated to the audience the tools and strategies for improving the trading profits. They gave practical demonstrations on how to work with big data to design a trading strategy using open source tools.
Finbridge Expo 2015 was a great platform to gain valuable industry knowledge and insights about other market segments of finance and technology industry for all visitors as well as exhibitors.
Know more about our flagship EPAT program, feel free to contact us or give us a call at 1800-266-5401.