Overview
QuantInsti conducted a session on 'System Architecture of an Algorithmic Trading System' for IIT Delhi on 28th October, 2018. Nitesh Khandelwal (Co-founder, Director at QuantInsti) imparted knowledge about the inside of an Algorithmic trading system in this session.
About The Speaker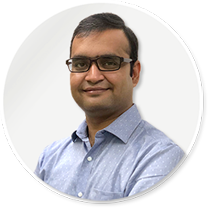 Nitesh Khandelwal (Co-founder and CEO, QuantInsti)
An electrical engineering graduate from IIT Kanpur with a postgraduate degree in Management from IIM Lucknow, Nitesh Khandelwal started his career in the Banking sector on the treasury side. After a brief stint in a proprietary trading firm as a lead, he co-founded iRage in Mumbai. Today, iRage is a leading player in the Algorithmic Trading space in India. Later, when Nitesh moved to Singapore, he set up a trading business to trade across the global exchanges.
In 2016, he shifted his focus to QuantInsti ® as its CEO. QuantInsti ® continues to work towards bringing knowledge and access to scientific & technology oriented trading to the masses across the globe and has already been helping its users from 130+ countries in achieving the same.
Event Photos