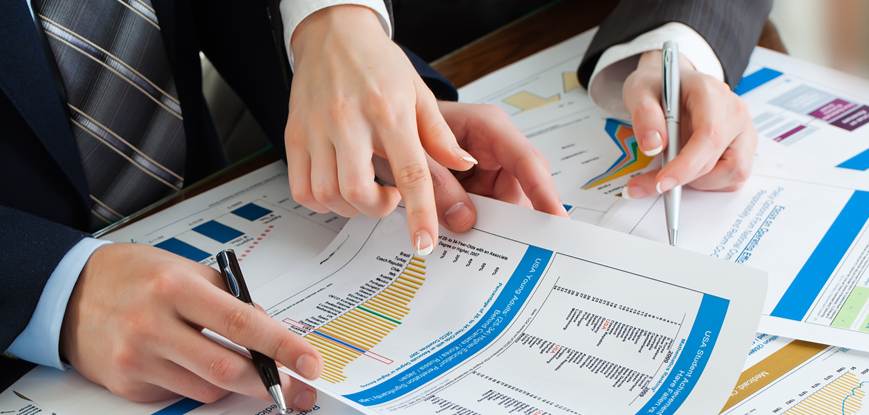 Sometime back I came across these interesting lines on Trading. "In Trading, relying on hopium is worse than addiction to opium. Your gains will be nil and your trades typically will result in pandemonium." Hope is never a profitable algorithmic trading strategies and hence it becomes paramount for all traders to ensure that they perform robust backtesting to evaluate a strategy's performance and also conduct paper trading before taking their algorithmic trading strategy live.
This article attempts to cover the paper trading part in the strategy testing process. In our Executive Programme in Algorithmic Trading (EPAT®) we take our course participants through the entire process of building algo strategies. It starts with knowing the basics of financial markets, algorithmic trading, mathematics and statistics, derivatives, programming and trading platforms. Our expert faculty then guides our EPAT® students to combine this knowledge to build profitable algorithmic trading strategies.
Flowchart of Algo Strategy Creation
The flow chart shown above depicts the process of building a trading strategy. As can be seen in this flowchart, paper trading or virtual trading is an important element in the strategy creation process. The pros of paper trading your
algorithmic trading strategy
are as follows:
You don't have to risk real money
Test trading strategies without any stress or emotions
Get to know the different features offered by the trading platform
Paper trade different types of orders, instruments, markets etc.
You can compare the backtesting performance of your strategy with the paper trading performance in your choice of programming language.
You can further optimize your algorithmic trading strategy based on paper trading results
Verify the robustness of the trading API solution which you'll be using once you go live.
Virtual trading has certain cons like you cannot ascertain the
market impact
of your paper trades or the slippage costs that you can incur in live trading which may not be reflected in your paper trades. One needs to be aware of these cons while evaluating the final performance of your paper trading strategy.
Who can benefit from a Paper Trading Account?
Following are the parties who can benefit from a paper trading account.
Students who are learning algorithmic trading
Newbie traders who have trading ideas and want to test them before taking them live
Experienced traders who want to explore their algorithmic strategies in untested markets
How does Paper Trading work?
Some brokers provide a paper trading (virtual trading) environment within the live trading account and you need to select the paper trading feature once you login to your live trading account. This will activate the simulated trading environment. Some other brokers provide paper trading login credentials which are separate from your live trading account.
Paper trading works almost like a live trading account. You get to use most of the order types, trade different instruments and try different features offered in the trading platform.
You might need to configure your paper trading account and may require market data subscriptions or these can be the same as your live trading account. You are provided with a certain amount of equity to facilitate the trades. The value of this equity will wary based on the profit/loss made by the strategy in paper trading. You can also reset this equity value back to the original amount in case you want to trade other new strategies.
Trades entered using paper trading account are not actually executed on any exchange. However, the price of your trade executions will be determined by the real market prices and sizes.
Your broker will provide you with a paper trading account statement at the end of each day which can be accessed from the reports menu.
Brokers with Paper Trading Facility
If you are convinced of the importance of paper trading and have decided to paper trade your
algorithmic trading strategies
, then ideally your paper trading and live trading platform should be the same. Not all brokers provide a paper trading account. Hence it becomes imperative for you to do so some research before you decide to open a trading account with a particular broker.
When it comes to paper trading algorithmic trading strategies, you need to check whether your broker is proving API solution in the programming language of your choice. Many brokers tend to offer API solutions in different programming languages like Java, .NET (C#), C++, Python, R, ActiveX or DDE.to cater to a wide audience. You may also find third-party API solution providers in the programming language of your choice which help you connect with your broker platform.
The API solution offered by the broker or the third-party developer should be stable in terms of performance and should be able to execute your orders, square-off open positions in an error-free manner. One should also check whether the broker is going to charge for the API solution or whether it comes free with the live trading account.
Opening a Paper Trading Account
You can easily find a list of brokers catering offering a paper trading account from the net. Once you have this list collated, you can check with the sales team of respective brokers to know the exact formalities required to open a paper trading account.
Most of the brokers provide an online application form to open the account which requires the applicant to fill the requisite information like personal details, sources of income, trading experience, the markets & financial instruments that you wish to trade etc.
In some cases, brokers offer a demo account which helps to know the various features offered in the trading platform. The demo account may differ from a full-fledged paper trading account.
Interactive Brokers Paper Trading Facility
Interactive Brokers
offers robust platforms for trading across markets and instruments for mobile, desktop and web users. It also offers different API solutions which can be used along with its popular feature-rich IB Trader Workstation (TWS) to build your own trading applications, get market data and to view your account data. Account users can also avail of the paper trading facility offered by Interactive Brokers. You can find more information on their paper trading facility
here
.
Paper Trading your Strategies
Once you have an operational paper trading account, paper trade your strategies for a time period that helps you validate your trading idea. The period can vary from 1 month to 3 months depending on your strategy and the parameters that you want to evaluate. Go back to the drawing board in case some more work is needed before the strategy can be taken live.
Remember, hard work always pays and paper trading will help you validate the effort you put in building your trading idea.
Next Step
We hope that the article gave you a good introduction to paper trading (virtual trading) your algorithmic strategies. If you want to learn in detail the other aspects of Algorithmic trading then do check out our
EPAT® program
. It covers training modules like Algorithmic & Quantitative Trading, Financial Computing, Technology, Statistics and Econometrics.
EPAT®
equips you with the required skill sets to be a successful trader.
Enroll now
!